Blog
Used clothes are austerity fashion in Eastern Europe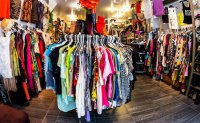 Budapest/Warsaw - hit Central and Eastern Europe strongly from the global financial crisis but one trade rebounded are second-hand clothes.
While financial pressures have prompted many consumers in western Europe to turn to retailers offering discounts like Primark, their peers to the east - where wages are much lower - have turned to second-hand clothes.
Retail stores of second-hand clothes in Hungary, Poland, Bulgaria and Croatia have grown rapidly and in light of the slow pace of co...